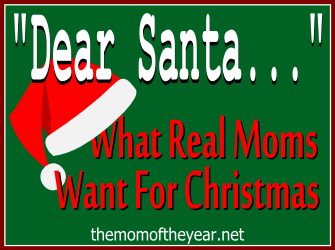 Dear Santa,
This year, I wanted to write you a letter on behalf of all moms. We, too, wish for you to come down the chimney and delivery some holiday cheer.
We have tried to be a really good moms this year. We have run carpool and gone on the field trips. We have baked for the PTA and volunteered for the book fair. We have driven endless loops between the school, sports, art, scouts, camp, and home. Many of us have done all this and more while juggling a career or an illness or a zillion other things.
We have planned for, shopped for, and cooked for the entire year. It was mostly nutritious and sometimes even hot. Give us some slack when our meals weren't perfect. We were responsible for every meal and every snack for the entire year. With the average family having 4.2 people, that means each mom served food 7,665 times - that is a lot of grocery store runs.
We have planned the kids' birthdays parties and remembered to send cards to our husbands' family. We have tended to the throw up and the scraped knees. We have handled the sibling fights and the school yard disputes. We have really, really tried not to yell at the kids. But, we yell anyways. If it helps our cause, we feel guilty afterwards. Moms always feel guilty after they yell at their kids.
Like we said, we have tried to be good this year. To reward all of our hard mommy work, we have put just three items on our Santa Wish List.
1. We wish for 25-hours each day. The bonus hour must come with a clause that it could only be used by moms for moms. We could finally do all those things the women's magazines say we should do - like sleep. Santa, if you give us this hour, we hereby promise to use this hour as directed. We will not squander it doing more laundry or cleaning more bathrooms (at least not for the first week).
2. We wish to keep the wisdom of our years, but regain the bodies of our youth. We want both our boobs and our butts to be perky. We want the only grey on our heads to be hats. We want to indulge and neither pay the price the next morning nor on the scale. We want to wear the cute little clothes and not look ridiculous. We don't want a single cosmetic in our bathroom to say "Age Defying."
3. Most importantly, we wish for a crystal ball. This crystal ball will simply tell us our kids will turn out just fine. We can use it whenever we doubt our parenting or their decisions or the dangers of the world, We could simply look into our crystal ball and know our children will all be OK.
Santa, if you can promise our kids will be safe, healthy, and happy we really don't need anything else. From our baby's first breath, that is all any mom ever really wants. To know our children will be OK, would be the greatest gift. So push that crystal ball to the top of our list. If you happen to have room in your sleigh, the other two would be nice, too.
Merry Christmas.
Sincerely
The Moms of the World